Newswire: Jon Stewart to turn heel as host of the WWE SummerSlam
In what is either an ironic commentary on the theatrical, deeply partisan nature of the current political climate or a fun story to tell at cocktail parties, USA Today reports that Jon Stewart's first post-Daily Show gig will be as host of the WWE SummerSlam Sunday night. Stewart, who is apparently a longtime pro-wrestling fan, appeared on Monday Night Raw in March, where he settled his "feud" with WWE heavyweight champion Seth Rollins: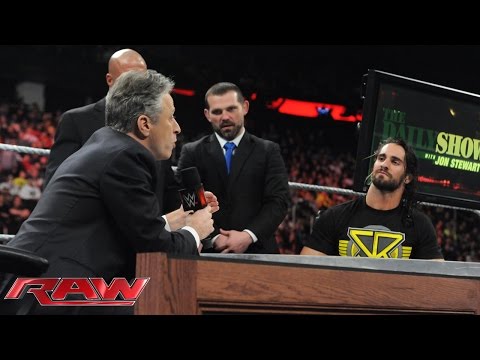 Hopefully, Stewart's big mouth will ignite a new feud Sunday night, when he steps inside the squared circle at Brooklyn's Barclays Center. (Fingers crossed for John Cena putting Stewart in a headlock.) The show is already sold out, but will air at 7 p.m. ET/4 p.m. PT on the WWE Network.